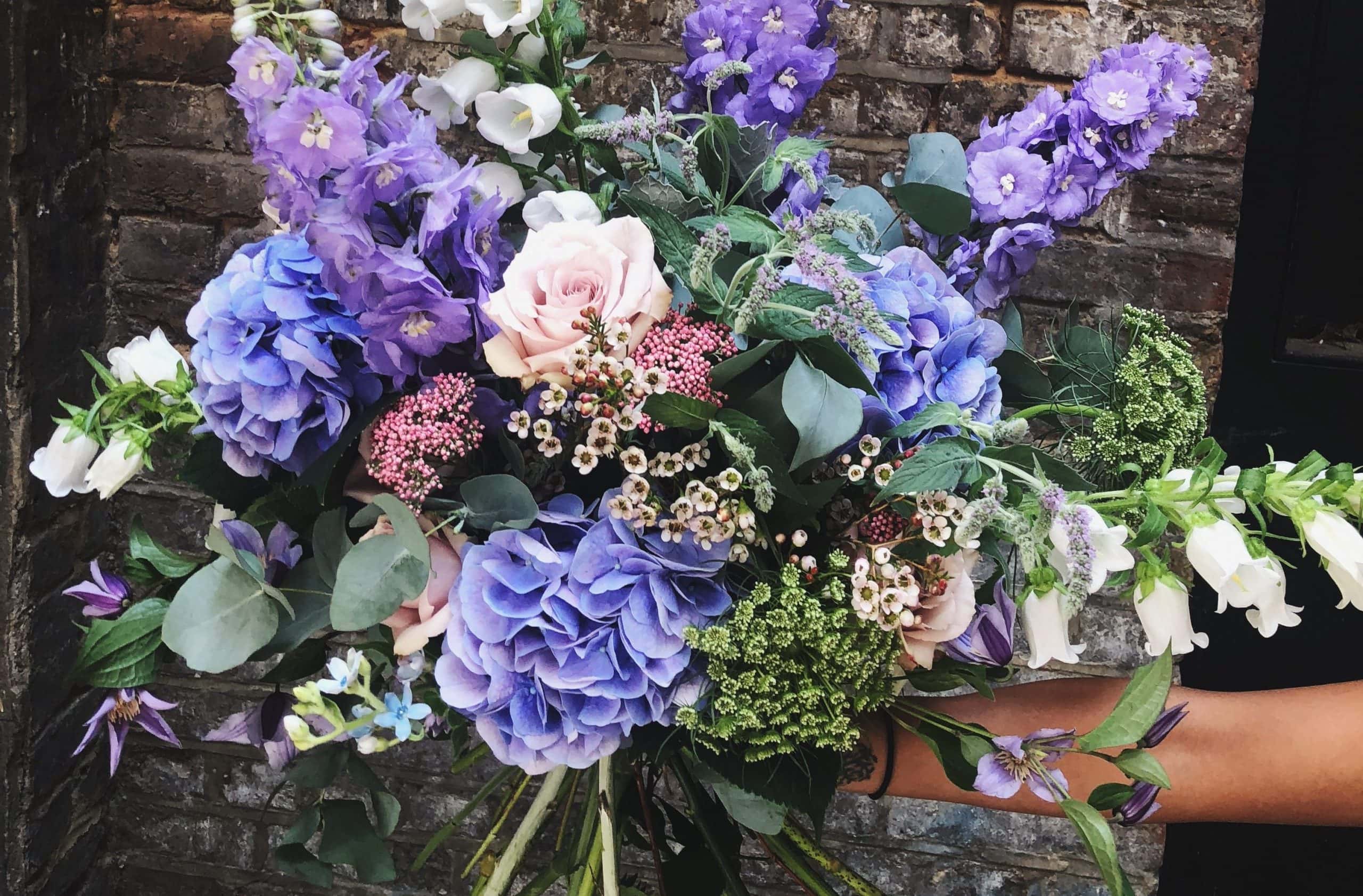 10 Brilliant Wedding Bouquet Ideas for Summer 2021
Planning the wedding of your dreams? You'll need the flowers to match! Despite ongoing concerns and cancellations, amidst the COVID-19 crisis, the wedding industry, when it comes to planning at least, still marches on. A beautiful, ornate and unique wedding bouquet is the crowning glory of any bride's ensemble. A bridal flower bouquet can stand alone, or be complimented by those held by bridesmaids and flower girls; there really are no limits, when it comes to bouquets, except our imagination.
Bridal Hand Bouquet
At Fall Into Flowers, we're hard at work with prospective brides and grooms, conducting wedding flower consultations over video call to help get the ball rolling on our clients' vision for their wedding floral arrangements. We work with nature's calendar, backing the 'grown, not flown' movement in support of British growers of fine flowers, and product wedding floral arrangements using only the finest seasonal flowers. From a hand bouquet to a corsage, a Pomander on a ribbon, or something special for your guests of honour, bridesmaids or flower girls, there are endless possibilities when it comes to designing the perfect selection of bouquets for your special day. With so many options to choose from, we've compiled a few of 2021's freshest floral trends — from the classic to the totally contemporary — to inspire you when it comes to choosing the perfect wedding bouquet. Read on to discover some of our favourite wedding bouquet ideas for Summer 2021.
Natural Wedding Bouquet
A classic bouquet shape with a deliciously bohemian twist, Natural bouquets are popular with brides the world over — for a very good reason! Still recognisable as a traditional bridal or bridesmaid bouquet, with a lovely contemporary flair, the key to a Natural bouquet is in the arrangement, eschewing uniform placement and securing of fresh flowers, in favour of organic, flowing blooms and foliage that create a far more natural appearance. When it comes to a Natural bouquet, the clue really is in the name. A classic style that can be customised to fit any wedding theme or aesthetic, Natural bouquets celebrate everything that is beautiful and free within nature, presenting flowers in their most natural and complete form.
A key element of arranging a Natural bouquet is making the stylised appear completely organic. Despite their lack of a uniform 'shape', Natural bouquets are woven loosely, but carefully, in order to create a bouquet that still has a discernible front, back and sides. Size is also all to play for; a bride might choose a larger Natural bouquet for herself, and smaller variations for her bridesmaids or flowers girls, or keep size and composition the same across the board. Whichever way you swing it, nothing compliments the celebration of love — the most natural thing of all — like a beautiful Natural wedding bouquet.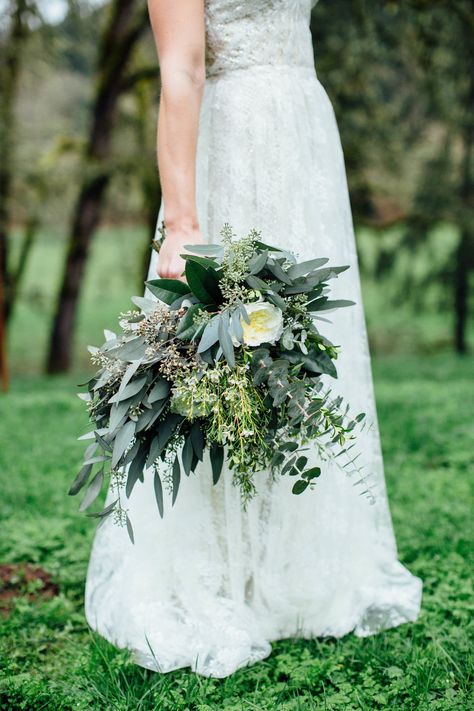 Crescent Wedding Bouquet
Taking advantage of a less traditional shape, with all the trappings and aesthetic of a classic look, is the Crescent bouquet: a combination of tightly woven structural flowers and cascading blooms, shaped to appear like a crescent moon of flowers. Traditionally held front and centre by a bride, a Crescent bouquet typically requires two hands, and some due arrangement, in order to ensure it is held and displayed in a way that does the differing aesthetic justice. Suitable for multiple types and varieties of flowers, brides selecting a Crescent bouquet might, however, wish to consider the way certain blooms, in this bouquet style, can have a more striking effect than others. One way to ensure the stylised bohemian look is carried through successfully would be to select sturdier, more uniform blooms to form the crescent shape itself, topped with cascading flowers or foliage to tumble down from the arrangement.
A beautiful choice for any bride hoping to put fresh flowers front and centre of her wedding day, choosing a Crescent bouquet is a great way to get ostentatious about your choice of flowers, whilst still maintaining a classic, tasteful and ultimately extremely elegant aesthetic. Despite its evocative name, the Crescent bridal bouquet can be shaped, or styled, in almost any way of your choosing.
Cascade Wedding Bouquet
A gorgeous, natural and ultimately very impressive bouquet choice is the Cascade wedding bouquet. Increasingly popular in recent years, particularly with brides who shake the traditional uniform aesthetic of a round bouquet, Cascade bouquets perform exactly the function their name suggests, allowing the bride who carries one to be surrounded by luscious, cascading flowers and foliage. Cascade bouquets are typically better suited to an organic, natural style of floral arrangement; though some uniform trappings are required to keep the bouquet in place, where Cascade bouquets really shine is in the flowing trails of flowers woven in.
Despite the fun, flirty nature of cascading flowers, Cascade bouquets can be easily adapted to suit the bride's chosen aesthetic for her bridal ensemble. Length and breadth of a Cascade bouquet can be played with, depending on the amount of 'drama' you'd like your bouquet to serve alongside your dress. Good florists take advantage of greenery, and the natural cascade of certain flowers, to bring a Cascade bouquet blooming to life. A bride choosing a Cascade bouquet for herself might wish to use the unique shape and elaborate design to differentiate herself from her bridesmaids or flower girls by presenting them with a more traditional bouquet, composed of the same flowers. The options are as limitless as all the flowers you have to choose from!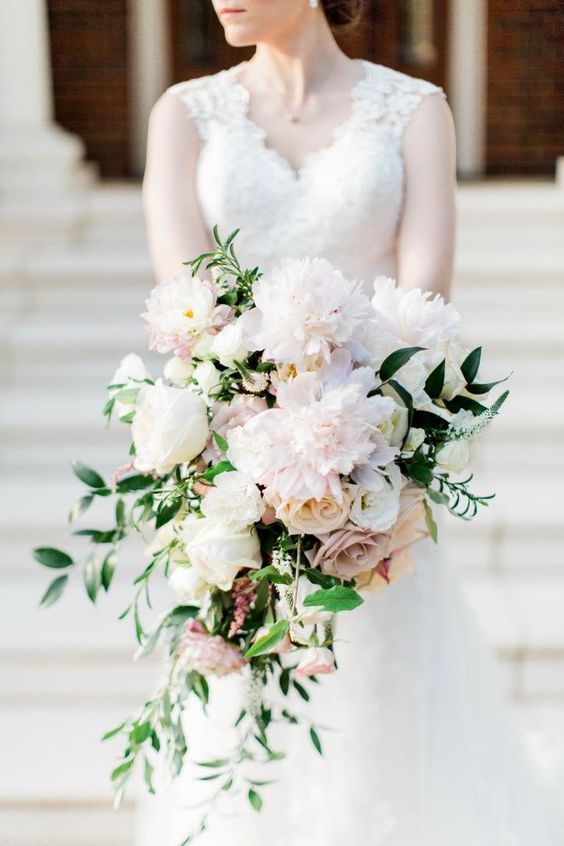 Nosegay Wedding Bouquet
For a bride who prefers a more subtle aesthetic when it comes to flowers, it may be that a stunning Nosegay wedding bouquet is the perfect solution. Traditionally smaller than other bouquet choices, the Nosegay is a perfect representation of changing fashions and trends when it comes to wedding aesthetics, not just in the UK, but around the world. A minimalist approach to wedding floristry and design has been on the rise for some time; that doesn't mean for a moment, however, that you should have to compromise on beauty.
Sometimes composed of only one type of flower, or indeed only one singular flower alone, the Nosegay is nothing if not minimalist, but extremely elegant for its trouble. A beautiful choice for brides, a Nosegay is also the perfect accompaniment to a bridesmaid or flower girl's ensemble, being simply constructed, and typically tied with a ribbon or binding that can be chosen to match a wedding's colour scheme. In addition, Nosegays make a wonderful gift or adornment for those in the congregation who are not in the wedding party, but still deserve to be recognised on your special day — a godparent, mother, or mother-in-law, among many others. Think of a Nosegay like the floral equivalent of a clutch bag — small and simplistic, but extremely effective!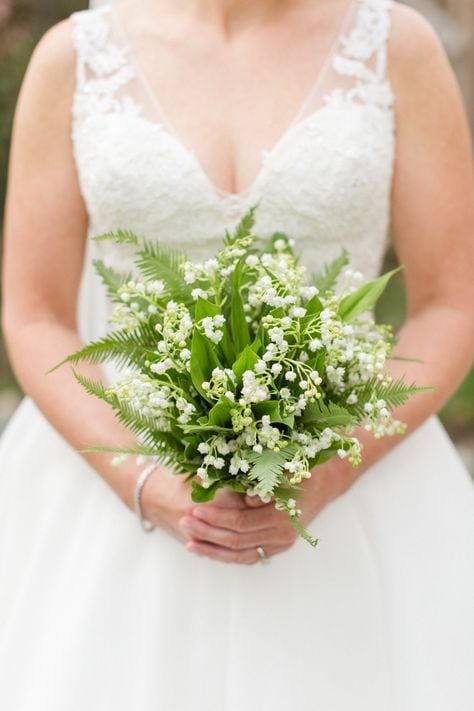 Domed Wedding Bouquet
A gorgeous, simple aesthetic for a bride who favours the traditional, a Domed bouquet is a sight many will recognise as being a bouquet they themselves may have held as a bridesmaid, or on a wedding day where 'classic' is key. Sometimes known as 'round' bouquets, Domes are a brilliant way to display a firm, structured, and ultimately extremely elegant bouquet that can be easily shaped and designed to fit the theme and aesthetic of any wedding.
The Domed bouquet's neat 360 appearance removes the whole concept of there being a front or a back to a bouquet; rather, it can be held at any height and any angle, and still give off the stunning desired aesthetic. This can be especially useful for younger members of the bridal party! Entirely customisable, there is no 'ideal' flower for a Domed bouquet, making them a great candidate for special flowers, meaningful adornments, or bouquets that are designed specifically for special people within your bridal party, or congregation. Colour can be utilised with the most fantastic results, where flowers of varying sizes, colours and varieties can be combined with greenery and rustic touches of foliage to create a traditional bouquet that will leap right off the pages of your photos, and into the lasting memories of you and your wedding guests.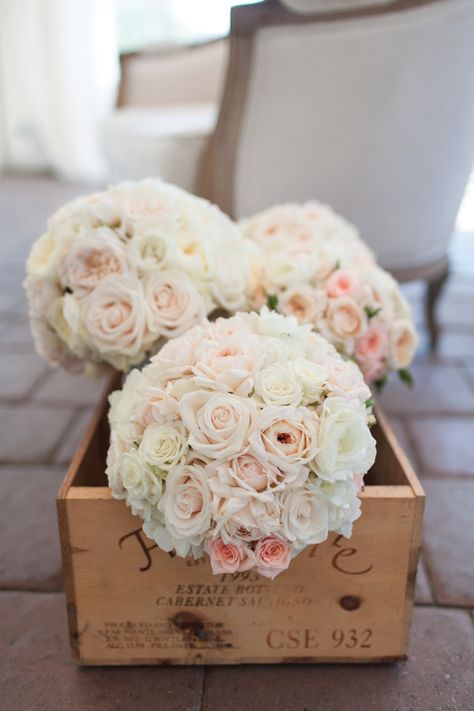 Pomander Wedding Bouquet
A truly stunning, and very unique, style of bridal bouquet is the Pomander — a flawless sphere of fresh flowers and foliage suspended on a string, and designed to be swung or worn by a bride as she makes her way down the aisle. The Pomander has a strong vintage aesthetic, reminiscent of outdoor weddings, and English country gardens. The wearing of flowers, as opposed to simply carrying them, is a tradition laden with a great deal of love — think corsages and boutonnieres, often worn by loved ones for wedding ceremonies. The concept of a Pomander bouquet is not all that different — they are a brilliant way to bring the beauty of fresh flowers into your wedding ensemble, as well as adorning it.
Another pair of hands well-suited for a Pomander bouquet are those of the flower girl. The shape and style of a Pomander is fun and theatrical enough to keep little ones amused during the wedding ceremony, but elegant enough that you can rest assured the smallest members of your bridal party will look fabulous when the cameras are come out. Certain flowers are better suited than others to the natural structure of a Pomander — they do not typically feature cascading flowers, but rather hold their spherical shape; that does not mean, however, that adjustments can't be made to suit the floral aesthetic you're seeking! Colour and scent are of great use to any bride wielding a Pomander bouquet — if you're planning to swing your bouquet by a ribbon, what better way to bring your guests further into the wedding experience than having a way for them to smell your bouquet, as well as enjoy its aesthetic?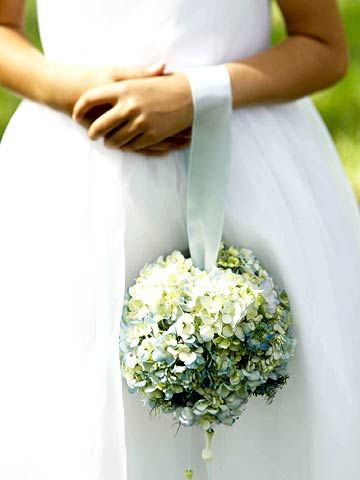 Presentation Wedding Bouquet
A Presentation bouquet truly is a sight to behold, typically bringing a centrepiece flower together with adorning foliage and additional blooms, whether complimentary or contrasting. A delightful departure from a more traditional wedding bouquet, you may have seen Presentation bouquets given (or 'presented') to individuals in recognition, onstage at pageants and competitions, or side-by-side with awards. Presentation bouquets are a perfect example of a bouquet that, when done simply, can be just as striking as when bursting from all sides with flowers. Ribbons, fabrics and paper adornments, as well as rustic touches are also common, allowing for a completely customisable bouquet.
Simple, yet chic, and with great potential to form part of an eye-catching ensemble, Presentation bouquets tend to be longer and thinner than more traditional, or bunched, bouquets, and are designed as such to fit into the crook of a bride's arm. Such a design makes for an elegant and practical bouquet, that can really benefit from a beautiful central piece. Though calla lilies are often used, don't be afraid to go 'avant garde' when it comes to your design of a Presentation bouquet. The goal, after all, is to 'present' yourself with as much beauty and presence as possible!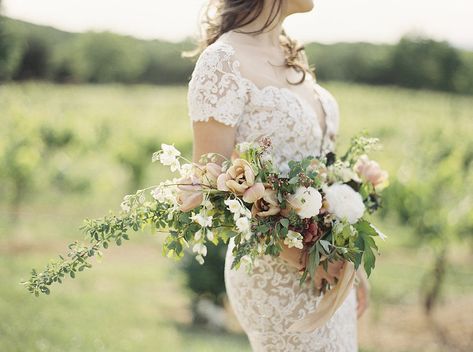 Posy Wedding Bouquet
A brilliant option for a bride with a minimalist aesthetic in mind, a traditional Posy bouquet is on the smaller side, generally tied with a ribbon around the stems, and tends to be composed mostly of flowers, as opposed to additional foliage or greenery. Ranging from refined, yet simple, bouquets utilising just one type of flower, to more elaborate designs featuring flowers of varying sizes, colours and types, a Posy bouquet is designed to be, when necessary, carried in one hand. The versatile nature of the Posy bouquet means additional aesthetic touches are easy to carry out; you might choose a tighter, rounder or more uniform Posy, or instead opt for a more informal, loose bouquet, with a variety of flowers.
Where a bride might be concerned that an elaborate choice of dress will end up competing with her choice of flowers, a Posy bouquet is a wonderful way to remain safe in the knowledge that every part of your wedding ensemble will stand out as its own. In addition, the more compact design of a Posy bouquet makes them a great choice for bridesmaids and flower girls; size and design can be played with, to either show unity between the bride and bridal party, or help each individual stand out.
Wild Wedding Bouquet
Many brides are known for their 'wild' side; one of the best and most beautiful ways to convey nature, in all its varied forms, is through the use of fresh, spilling wildflowers and foliage. Perfect for contemporary bridal bouquets, the Wild bouquet has a unique aesthetic that relies upon a total lack of traditional wedding bouquet design, or structure. Natural, botanical, and somehow unspeakably elegant, despite the whimsical nature, Wild bouquets are a perfect fit for weddings with a bit of country or bohemian flare, or simply for a bride who wants her wedding flowers to reflect her personality, from the top-down.
The endless possibilities when it comes to wildflowers and foliage mean that no two Wild bouquets are ever likely to be the same. Brides seeking a Wild bouquet often ask their florist to experiment, to use their creative skills, and the bounty of nature, to create something as special and beautiful as the couple whose wedding the bouquet will be featured in.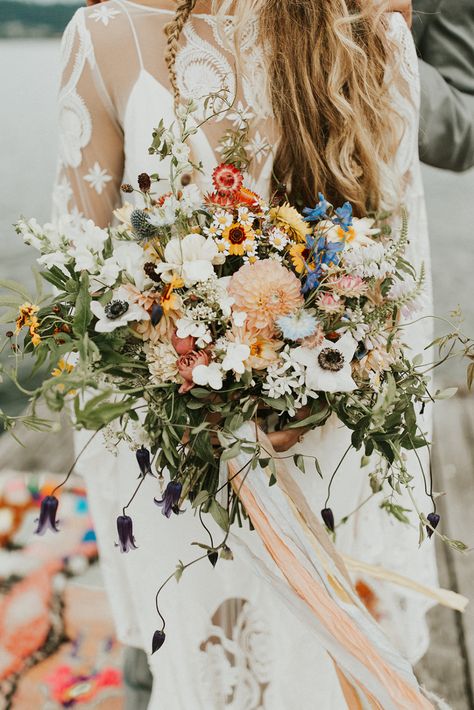 Composite Wedding Bouquet
A relatively modern bouquet design, recently skyrocketed towards serious popularity, the Composite bouquet is an intricate blend of buds, petals and smaller blooms, painstakingly pinned together to create the appearance of one giant flower. Simple they seem, in all but construction; Composite bouquets are not easy, nor quick, to produce, but are arguably all the more lovely to look at for the extra effort.
The advantage of a Composite bouquet's structure is that colour can be played with very effectively in order to create a totally unique aesthetic. Petals from different colours or types of flowers, for example, can be woven into a strikingly alternative look. From the simplistic to the intricate, Composite bouquets are often sought after by brides who desire a showstopper of a bridal bouquet, without the trimmings and trappings of excess cascade, foliage or greenery.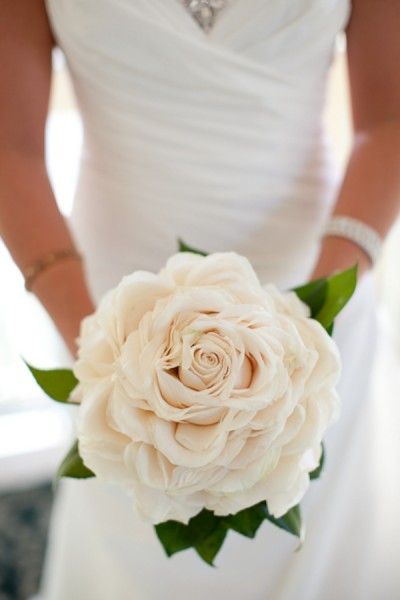 Summer 2021 is hotting up, and so are people's plans for their wedding days, no matter how far away the big day may seem. Fall Into Flowers, led by our founder and floral expert, Kirsty, are gearing up to help brides and grooms look ahead to the other side of the COVID crisis, and get to planning a wedding adorned with as many beautiful flowers as possible.
For a full run-down of Fall Into Flowers' floral services, to arrange a consultation with one of our expert florists about your plans for your wedding flowers, or to speak to one of our team about potential quotes, please don't hesitate to get in touch over the phone, via email, or via our online scheduling service.