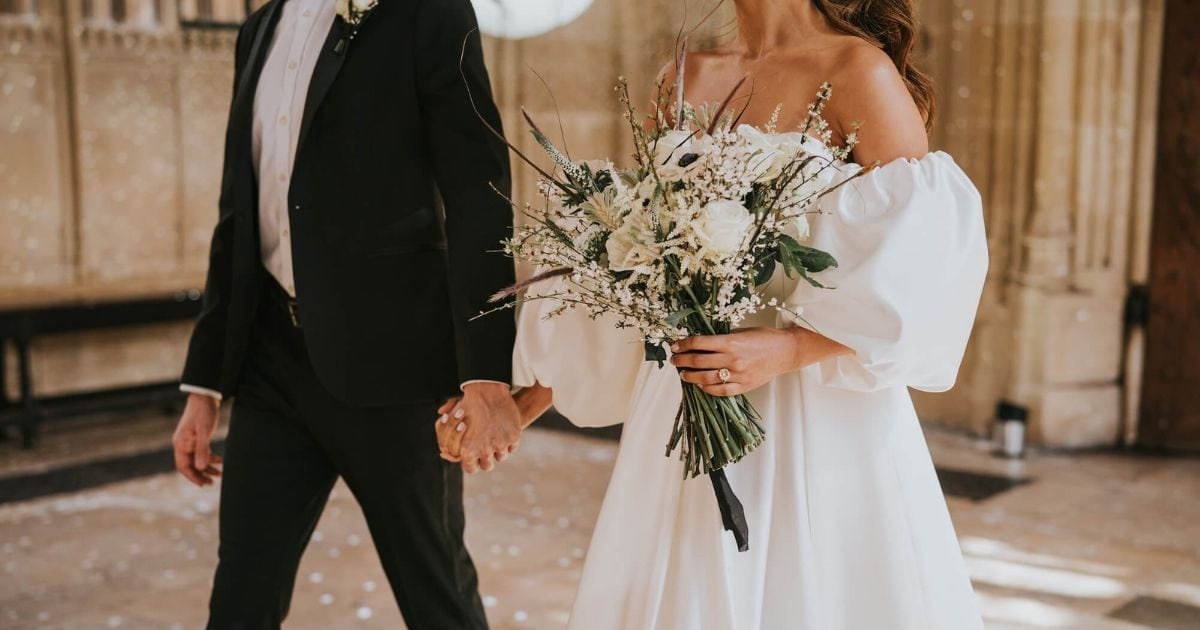 Where do you need flowers at your wedding and reception?
For many brides, flowers are one of the most important elements of a wedding. For some, they come second only to the dress. When done well, flower arrangements make an invaluable contribution to both wedding and reception, setting the theme and tone for the whole day.
Choosing flowers for your wedding is no small task. It's difficult to know exactly how many individual blooms you will need, which flower will work best, and where you should place the arrangements. It is therefore vital to work closely with your florist who can advise you on the answers to any questions you may have. An experienced florist will be able to help suggest what works well and where using their expertise and wisdom to ensure your floral dreams can become a reality.
The decisions you make will naturally be impacted by your budget. In general, and rather unsurprisingly, the more flowers you have, the more expensive they will be. If you are tight on budget, you may want to make particular features more impactful, focusing on things like the bridal bouquet or a table centrepiece, depending on what you want.
Remember that wedding flowers are not just about the bouquet – you need to think about where you want them during the ceremony, whether you want them outside the church, where in the reception venue, or if there are any particular photo spots you want to enhance. You also don't want to forget about your bridesmaids or the flower girls, or if you want any flowers in your hair.
There are even the groomsmen to think about!
Working with your florist will allow you to bring together all the different elements of the day by choosing a theme or colour scheme. Even then, some flowers may work better in large arrangements rather than in buttonholes, so you will need to discuss which flowers you will use and where. For example, you may want to use larger blooms in your bridal bouquet, or more expensive flowers in your hair, and smaller ones for buttonholes.
Flowers that are not in season tend to be more expensive and not always of the same high quality as in-season ones. You may want to consider this when planning any arrangements. If you're not sure which flowers are in season, your florist will be able to help you – they will be able to advise you on which flowers are the best for the season you're getting married in. If you haven't got a clue where to start, why not visit a flower market so you can begin to get an idea about what you like, what type of flower heads you love, or if there are any particular colour schemes you want to play with. Flowers in Spring or early Summer will have a very different vibe to late Autumn/ Winter for example.
The Bouquet
Whilst not necessarily as important as the dress itself, the bridal bouquet is the perfect chance for you to complement and enhance your dress, yet the bouquet is not simply an accessory. With you both before and after you're officially married, the bouquet will likely feature in most of your wedding photos! So when thinking about the bouquet, consider what colours will enhance and not overpower your dress. It can also be a place to tie in different elements of your theme or colour scheme. If you're wearing a white or pale dress, similar or pastel colours work beautifully for spring or summer weddings, whilst warmer tones look wonderful in autumn and winter. When choosing your bouquet, keep your colour theme in mind so that it will tie in and be balanced by the overall floral landscape of the day.
Bridesmaids
You may also want to think about whether or not you want your bridesmaids to have any flowers, in bouquets or their hair. How do you want the bridal bouquet to look in comparison with any bridesmaid flowers? If your bridesmaids are having their own bouquets, you will want to make yours clearly larger, and perhaps with more expensive flowers or slightly different colours.
Smaller blooms and fine foliage look beautiful when woven into a flower crown, and could be a fantastic option for bridesmaids.
Groomsmen
You may not have thought of this, but you will need to think about whether the groomsmen and the groom will need any flowers in their buttonholes. These can also tie in with the overall theme and unify the different groups of the wedding party.
Then there are fathers, mothers, grandparents etc – think about how many people you want to wear special, intentional flowers – perhaps as corsages. These are also the kind of people who may appreciate taking home any leftover arrangements once the wedding celebrations are over!
Venue
The venue for your ceremony may have its own rules and stipulations about what you can and cannot bring in, or even how long you will have to set up, so check these well in advance to give your florist plenty of time to plan and prepare.
Some brides choose small arrangements to go along the aisle, while others prepare larger alter pieces. Just remember not to block anyone's view!
Reception
You will probably spend the longest amount of time at your reception venue, so may want to invest more attention here. But there are many practical considerations.
Be prepared for any rules dictated by the venue itself.
It's important to consider the size and scale of the room too. Larger flower arrangements can work well in loftier spaces to focus attention where wanted.
You can also discuss with your florist the possibility of reusing arrangements from earlier locations like the church. This will depend on timings however and may require more in-depth logistics planning.
The vast number of things to think about when planning a wedding can leave your head feeling like it's about to explode. The key is preparation and planning in plenty of time, and making the most of the skills and wisdom of professionals!